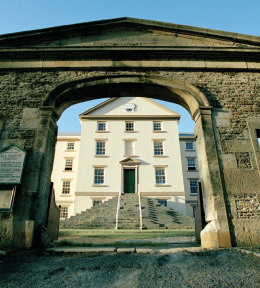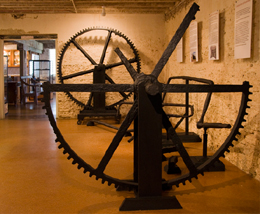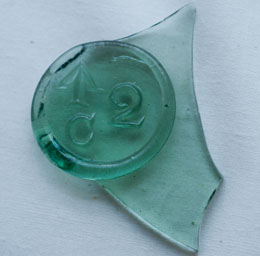 Location
On the corner of Middlegate Road and Quality Row, in the lower level of All Saints Church.
What's on display
The exhibitions here begin with the story of archaeological digs in the KAVHA area together with the islands fauna, flora and geology. The very first inhabitants on the island were the Polynesians and items including hearthstones and adzes recovered during digs in the area behind Emily Bay, help to tell the intriguing story of their time on the island. However the main displays here are on the First and Second Settlements as they bring Norfolk's convict past alive. Objects include glass beads and ceramic pieces from the First Settlement and whips, leg irons and crankwheels from the cruel Second Settlement. The extensive building program of the Second Settlement is covered with many stone, timber and metal objects. An 8 metre photographic montage of the Kingston area taken in 1867 really allows an appreciation of the extent of the buildings, barracks and gaol area that existed. Finally, the ceramics exhibition is a magnificent display covering an extensive range of makers, styles and production types.
The building
When the Pier Store was flooded in 1834 Commandant Anderson decided to build a new Commissariat away from the waterfront. The Commissariat took only six months to build and was opened in 1835. It consisted of three floors and a basement. The first floor contained a glass partitioned office, a meal room, office and store. The second an engineer store, grain store and office. The third floor was used solely for the storage of grain. The basement originally housed the liquor and general store which in 1845 was converted to an issue room. The front steps were constructed after the main building masonry had been completed and are unusually positioned as they cover a part of two of the basement windows. After the Pitcairners arrival in 1856 the basement continued to be used for a store. In 1874 the main or lower floor ceiling was removed to create a double story space for All Saints Church. The basement level was opened as a Museum in the 1990s.