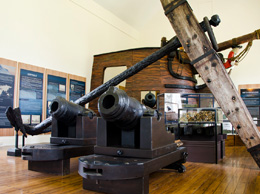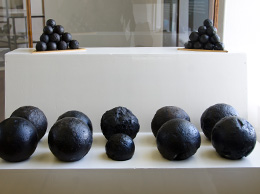 Location
On the corner of the Compound, on Bounty Street in the former Protestant Chapel.
What's on display
This museum is dedicated to the HMS Sirius, flagship of the First Fleet andwrecked on Norfolk Island in 1790. The objects you'll see include a one tonne anchor, carronades, cannon balls and delicate pieces from the Officer's Quarters. Over 6,000 items have been recovered from the wrecksite, which lies about 100 metres away on Slaughter Bay reef. The reasons why the Sirius was at Norfolk Island and the circumstance of the wrecking are fully explored together with the words of eye-witness accounts. A 20 minute video "Search for the Sirius" tells the fascinating story of the recovery of the objects during the 1980s'.
The journey of the First Fleet is celebrated in this museum. A touch-screen computer contains biographies of all who landed at Botany Bay in 1788 and a unique First Fleet Wall provides the opportunity to view the names of all those who made the journey. Descendants can purchase and have mounted on the Wall a timber disc engraved with their ancestor's name and also sign a "Descendant's Book" containing a page for each First Fleeter.
The building
The building is known as the former Protestant Chapel as it was built in 1840 as a chapel for the convicts in the Second Settlement during the time of the reformist Commandant, Alexander McConochie. After the close of the settlement it fell into disrepair by the 1870s. It was substantially re-built in the 1890's and used once again as a Church. By the 1940's it had again fallen into ruin and remained so until re-built as a Youth Centre in 1968. In 1985 modifications were made and it became a Maritime Museum for the Norfolk Island Museum and continued with this use till 2004 when it was then used as a theatre. The HMS Sirius Museum was opened in January 2013.