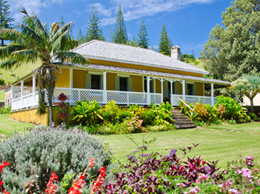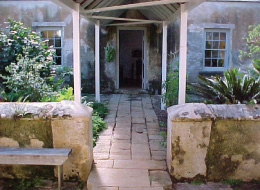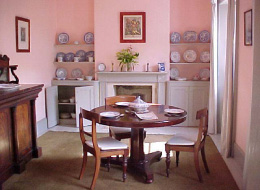 Location
On Quality Row beside the Old Military Barracks.
what's on display
When this house was built in 1844 it was the height of the brutal Second Settlement. It has been restored to the period of its first inhabitant Thomas Seller, Foreman of the Works. Period furnishings show the house at it would have been for a gentleman living there with just his manservant, as Seller did. Ceramics and other items that were recovered from archaeological digs in the privies are displayed, providing a unique opportunity to connect these objects with previous inhabitants. A display in the annex on the renovations and other inhabitants of the house, highlights the story of Isaac Christian and Miriam Young who together with their 15 children lived in the house for 34 years from 1856. The grounds present a beautiful colonial period garden including a Common Red Hibiscus over 150 years old.
The building
No. 10 Military Row (as it was then called) was built as the residence for the Foreman of the Works and was completed in 1844. Its first inhabitants, Thomas Seller and Robert Orford, were responsible for the building programmes in Kingston. As the house with the most original fabric it was beautifully restored to this period in the 1980s. From 1856 till 1890 Isaac Christian and Miriam Young lived in the house, until they handed it over to the Church of England for use by their chaplains. In 1926 Ernest Stephenson, Registrar and Collector of Customs lived there. The house then became the residence of the Official Secretary's to the Administrator, and included local Charles Potts Buffet. From 1960 until 1984 it was home to Police Sergeants on the island and in 1985 visiting Systems Analyst Phil Munnings and his family lived there. It was then restored and opened as a house Museum in 1985.