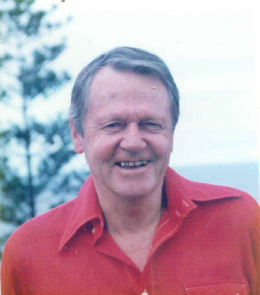 This page is dedicated to the memory of Peter Clarke, a great friend and supporter of the Norfolk Island Museum. Peter passed away in 2010.
Peter wrote the play The Trial of the Fifteen for the museum and allowed it to be performed with no royalty charges. It has been performed twice weekly for over ten years to a total audience of over 35,000, and travelled twice to Hobart, Melbourne and Sydney to sell-out audiences. The profits have been used to purchase goods and services that fall outside the museum's regular operational budget. This is the single largest and longest standing donation ever made to our museum. Peter's generosity continues to significantly increase our capacity to deliver quality museum experiences to locals and visitors alike.
Peter's generosity and support has been continued by his son Stephen who has chosen to maintain the same arrangements as his father - we are indeed very thankful to Stephen.
A direct descendant of Marcus Clarke, the great Australian colonial writer and author of "For The Term of his Natural Life", Peter was also a successful and prolific writer. Some of his best known writings were penned during his advertising career - "Oh, Oh Razzamatazz", (the advertising campaign that led Hilton Hosiery to become the biggest selling brand of all time), "BIC, better by a mile" and "Lipton Jigglers". In the 1960's Peter also wrote the lyrics to the musicals "The Long Drop" and "Here's Luck". "The Long Drop" has recently been performed as part of the Ned Kelly Festival.
After an incredibly successful advertising career with his company MCR Peter moved to Norfolk Island in 1982. He and his wife Charisse set up and run the luxury Shearwater Scenic Villas. They really made Norfolk home. Peter also captured the history of Norfolk Island in his book "Hell and Paradise". This beautifully illustrated hard cover book covers the history of the island through the two convict settlements, the story of the mutiny on the Bounty and settlement of the Bounty descendants in 1856. It is available in the R.E.O Shop or by emailing: info@museums.gov.nf
The Trial of the Fifteen is performed at the Ferny Lane Theatre in Burnt Pine. Further details can be found by contacting World Traders on: (+6723) 22115 or at: monica@worldtraders.nf.